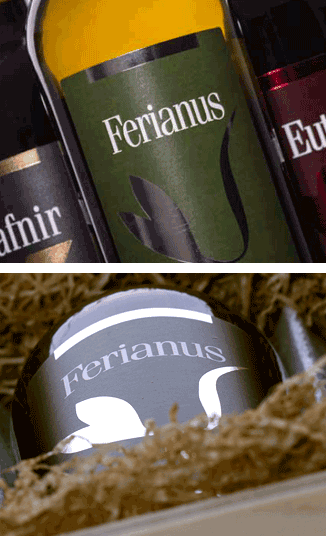 Intense straw yellow coloured with crystalline golden hues , it denotes a certain consistency. It's aroma is intense and complex, with floral hints: yellow wildflowers, broom, chamomile; and fruity hints: exotic fruit, pineapple, ripe grapefruit, yellow peach and ending  with herbs.
It has a dry, warm, supple taste with splendid mineral notes; long and persistent, reminiscent of the flavours of its homeland, with iodine notes definitely present.
Served with: first courses with important aromas, mushrooms, saffron and truffles and second courses with white meat and fish with strong flavours.
Type of wine
White wine produced by way of organic agriculture
DENOMINATION
Colli di Rimini DOC Rebola
Altitude 90 m a.s.l.
Characteristics of the vineyards
Organic vineyards of at least 10 years old with 5,000 vines per hectare, grown using a runner system.
Ampelographic characteristics
Rebola (Riminese biotype) 92%, Chardonnay 8%, vinified separately, blended at the end of the fermentation process.
Yield per hectare of 1.5 kg per plant
Harvesting Period and Method
First ten days of September for the Rebola variety; the second ten-day period of August for the Chardonnay variety, harvested by hand
Winemaking techniques
Short maceration before fermentation for the Rebola grape, then fermentation of intentionally cloudy must at a controlled temperature. Rebola and Chardonnay are blended when fermentation has taken place then aged in steel vats for 6 months on yeast.
Ageing
Minimum of 3 months in the bottle.
Number of bottles produced
4,000
First year of production 2010